Now Ventspils has its own money too, called 'vents', which will make ​​this city even more friendly and accessible to its loyal guests and future visitors. Venti is a non-monetary means of payment used in the city of Ventspils, Latvia. Venti (sing. 'vents') is the local currency providing one with special privileges when visiting different places for entertainment and recreation, tourist attractions and cafés in Ventspils.
Venti do not replace the national currency of Latvia, the lats. 100 venti are equal to 1 Latvian lat.
The first million of venti was launched in October 2011. Venti are now printed in six different denominations of 5, 10, 20, 50, 100, and 500.
All venti notes feature images of cow sculptures once created by prominent Latvian artists for the international art and charity project "Ventspils Cow Parade 2002". The sculptures of cows depicted on venti are located throughout the city and are still the most popular tourist destinations in Ventspils.
Venti have attracted attention not only of Latvians, residents of the Baltics and the rest of Europe, but also generated a lot of interest among travelers from such far-away countries as the United States of America, the Philippines, and China.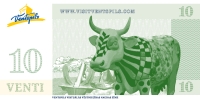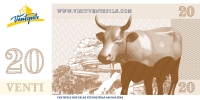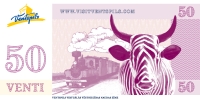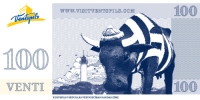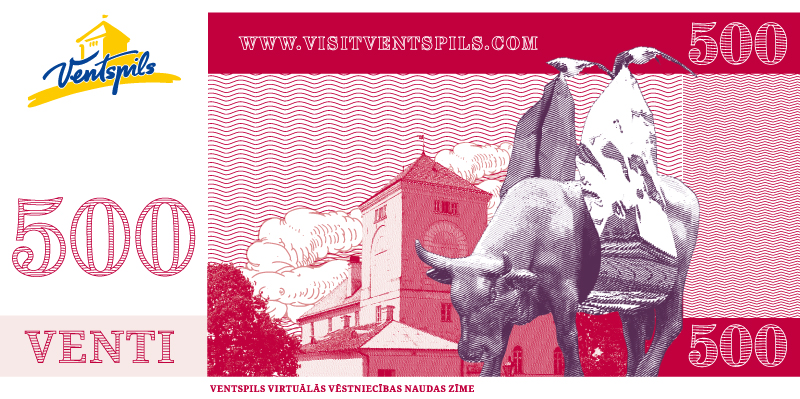 Hotel of "Olympic centre "Ventspils"" is the place, where you can get venti and then spend in a lot of places in Ventspils.
Как заработать Венты?
Venti should be earned.
For the above purpose, there was created the Virtual Embassy of Ventspils, found at www.visitventspils.com, providing information about Ventspils in 7 languages (Latvian, Lithuanian, Estonian, Russian, English, German, and French), thus addressing people from 103 countries around the world.
To start using the site, anyone can register with their preferred accounts like www.draugiem.lv, www.facebook.com, www.twitter.com, www.odnoklassniki.ru or Google.
Creating an Virtual Embassy of Ventspils account and making use of all of the venti-earning options allows users to earn up to 1000 venti instantly. The number of venti-earning options is subject to increase over time. According to the Venti Rules of Use, a user can save a maximum of 1000 virtual venti on his or her account, exchange them for real ones and start this whole process of earning again.
The Virtual Embassy of Ventspils website management system contains all details concerning the quantity of vents earned by every user for each of the activities. Sums earned are piled up in users' personal accounts. In the physical form of currency, venti can be obtained at the Bank of Venti located at Ventspils Tourism Information Centre, 6 Dārzu St., Ventspils, LV-3601; www.visitventspils.com; tel. +371 63622263 and at the branch of the Bank of Venti located at the Olympic Centre "Ventspils" Hotel, 33 Lielais prospekts, Ventspils; tel. +371 63628032.
Как провести Венты?
Paying in venti, you can enjoy generous discounts at 40 recreation, sightseeing and amusement places and cafés in Ventspils.
The list of places accepting venti is available for viewing and download at www.visitventspils.com.