Over the last ten years, Ventspils has been one of the most beautiful and tourist-friendly cities in Europe. In Ventspils, it is easy to forget that you are actually right here in Latvia – the city has its own flag, its own language, and even its own time zone.
Venti is a non-monetary means of payment used in the city of Ventspils, Latvia. Venti is a local currency providing one with special privileges when visiting different places for entertainment and recreation, tourist attractions and cafés in Ventspils. Venti do not replace the national currency of Latvia – the euro (EUR).
In October 2011, 1 million vents were put into circulation for the first time. Currently, venti already have 6 different denominations: 5; 10; 20; 50; 100 and 500.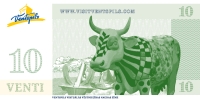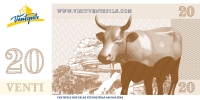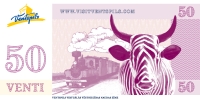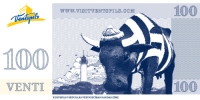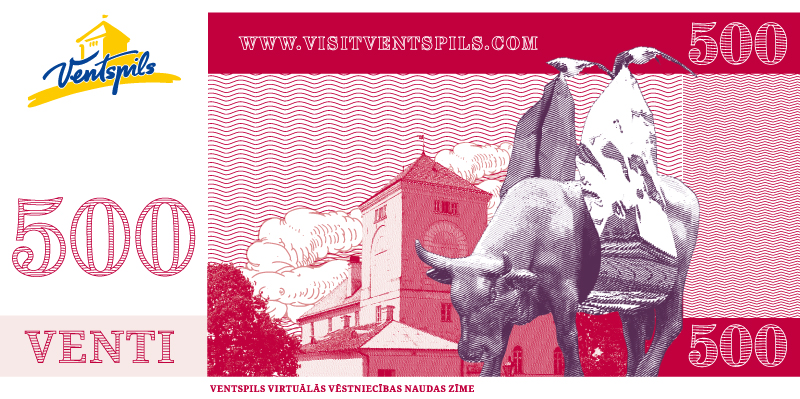 All venti banknotes depict cows created by the most prominent Latvian artists within the international art and patronage project "Ventspils Cow Parade 2002". The cows depicted on venti banknotes are located in the urban environment of Ventspils and are still the topmost popular tourist attractions.
The Hotel of the Olympic Centre "Ventspils" is a place where you can cash out your earned vents and then spend them in one of the 40 places that accept them.
How to earn venti?
For this purpose, the Ventspils Virtual Embassy www.visitventspils.com has been established, where information about Ventspils is available in seven languages – Latvian, Lithuanian, Estonian, Russian, English, German, French – thus addressing the residents of 103 countries.
Registration in the virtual embassy is possible with the account of one of social media sites (www.draugiem.lv, www.facebook.com, www.twitter.com, www.odnoklassniki.ru, google).
Authorisation in Ventspils Virtual Embassy and use of all opportunities to earn vents allows the visitor to immediately earn up to 1000 vents. Opportunities to earn vents are replenished over time. According to the Venti Terms of Use, anyone can accumulate a maximum of 1000 virtual vents that can be exchanged for real ones, and start earning them again.
Earned vents are stored in the virtual embassy system in the individual account of each visitor. Venti can be physically received at Venti Bank in Ventspils, located in Ventspils Tourism Information Centre, 6 Dārzu Street, Ventspils, LV-3601, www.visitventspils.com, phone 63622263 and Venti Bank branch, located in the Hotel of the Olympic Centre "Ventspils", 33 Lielais Prospect, Ventspils, phone 63628032
How to spend venti?
It is possible to pay with the obtained venti in 40 active recreation and entertainment places, tourist objects, accommodations and cafés in Ventspils.
List of places where to spend venti is available at www.visitventspils.com.